Have your Birthday Party at the Greensboro Ice House!
Our new FUN PARTY PACKAGE starts at $140 and includes admission and skate rental for 10 individuals (this includes the birthday child), rink side table for the entire skate session, white paper products, benches, tablecloth, and balloons.
Party Times:
Reserved party rooms and open rink area parties are as follows:
Saturday Afternoon
1:00 pm to 4:00 pm
(Skating starts at 1:30)
Saturday Night
7:00 pm to 10:00 pm
(Skating Starts at 7:30)
Sunday Afternoon
1:00 pm to 4:00 pm
(Skating starts at 1:30)
Friday Night
7:30 pm to 10:30 pm
(Skating starts at 8:00)
We ask that all of our VIP party guests arrive early. We like for our guests to get their skates and get situated before the skate session begins.
---
 Want more? Look at what you can add to your Fun Party Package:
Reserved Party Room – $40 –   Reserved party room for the entire skate session
Drink Pitchers – $3 – 60 oz. drink pitcher (Approximately 5 to 6 cups per pitcher)
Pizza (cheese or pepperoni) – $12. Pizzas are 16″, cut into 8 slices, and freshly made
Hot Chocolate-$10- Party cups of hot chocolate (10 cups). Extras are $1.00 each
Popcorn Bucket –  $5 –  64 oz. container (Large bucket just like at the movies)
10" Round Cake –  $20  Cakes are freshly made and will serve up to 16 guests
½ Sheet Cake –  $27  Cakes are freshly made and will serve up to 38 guests
30 cupcakes-$22 Cupcakes are freshly made
Skate University –  $40 –  Paid party guests (children) spend 30 minutes with one of our skate coaches
Souvenir T-shirt –  $10 –  Youth small, medium, large & adult small, medium, large
Extra party guests – $14 -Invited children
Skating Parents – $7 –  Parents who want to skate with the party
---
 Skate University
Saturday and Sunday afternoons only; 1:45 pm to 2:15 pm. Reservations are required and must be made 72 hours in advance. Friday and Saturday evening lessons are not available.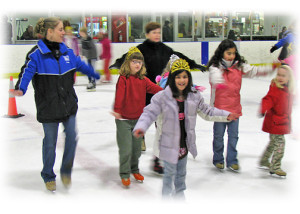 Our new Skate University allows your party access to one of our trained coaches for 30 minutes. Skaters can ask the coach for assistance and they can ask "how to" questions. The coach can also help your skaters with standing, balancing, movement, and how to fall down properly. Skaters can use this time to practice their new skills as well.
Got a question? Check out our new Frequently Asked Questions (FAQs) below and you might find the answer to your question! If your question has not been answered, send your question to enrollments@greensboroice.com. Be sure to include your name and phone number so that our party director can contact you.
---
FAQs
I want to book a party, how many guests can we invite? Your package provides admission and skate rental for 10 individuals (this includes the birthday child). Additional party guests (children) can be added. Each additional child is $14. All invited party guests must wear a bracelet to celebrate at the party table and skate.

Do parents get to skate free?

No. All parents and/or adult guests must pay to skate with the birthday party. The discounted rate is $7 per person.
We are expecting more than 10 party guests. When will I be charged for them? You will be charged for any extra party guests the day of your party. We do not want to charge in advance for guests who do not show up.
I want to reserve a party room, but I was told both party rooms were reserved. What can I do? Our party rooms are reserved on a first come first, serve basis. If a party room is not available, you have the option of picking another date or you can reserve a table in our open rink area.

Can I bring in food?

No. The only food allowed from the outside is a cake, cupcakes, or a cookie cake. No other food is allowed; this includes ice cream, juice boxes and/or pouches, fruit, chips, etc. It is ok to bring goodie bags.

How many parties will you have per skate session?

Our intent is to have no more than six (6) parties per skate session.

What time should my party guests arrive?

All party guests should arrive at the time of your party reservation. We have built in 30 minutes for party check-in, guest arrival, exchanging shoes for skates, etc. Skating typically starts at 1:30 on Saturday and Sunday afternoons, at 8:00 pm on Friday nights, and at 7:30 pm on Saturday nights. From time to time our schedule may change, but not very often. You can always check public skate times on our website greensboroice.com

Will my party have a hostess?

Hostesses are available upon request at no extra charge.

Can I bring my own paper products?

Sure. Please feel free to bring your own themed paper products, extra balloons, and goodie bags.

I want to make a party reservation but I don't have a credit card and need to pay with cash. What do I do?

We accept cash, check, and major credit cards. If you prefer not to pay with a credit card from our secured site, please contact our party director via email. She will contact you to make the necessary arrangements.

My child has decided she no longer wants to have a skating party, can I get a refund?

No. Our parties are non-refundable. You have 1 year from your scheduled party date to reschedule your party. You can use the party for any occasion!

When do you stop taking party reservations?

Party Reservations can be made up until Wednesday, the week of your party. Reservation requests received after that, accommodation cannot be guaranteed. All reservations are taken on a first come, first serve basis. Our Party Director will contact you regarding your reservation.

What time do you serve food?

1:15 pm, 2:30 pm, 3:15 pm on Saturday and Sunday afternoons. Friday and Saturday nights, 7:30 pm and 8:00 pm.

I wanted my party food served at 2:15 pm, but was told that time was not available. Why?

We offer several different times for food service. All requests are confirmed on a first come, first serve basis. When we have multiple parties, it may not be possible to provide food service at your requested time. However, we will do everything possible to accommodate your request.

Can I make a reservation and pay for my party later?

No. All parties including food items must be paid in full at the time the reservation is made. Reservations cannot be held without payment.
 ***NOTICE–Your party has not been reserved until you receive a confirmation from our Party Director. We will make every effort to contact you within 48 hours of your online enrollment.***
I'm Ready to Book My Party!